Vice Grips - 3 XL #2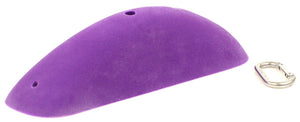 Vice Grips - 3 XL #2
Climbing Hold type: Pinches

Number of Climbing Holds:

1

Difficulty: Beginner-Advanced

Proudly made in the USA

Free shipping on all orders in the USA
Pinch me, am I dreaming?
Nah, the 3XL Vice Grips might feel out of this world, but they're real and ready to put your forearms to the ultimate test.
A slopey pinch that'll test you to the max on any angle steeper than vert!
Slightly narrower than his fellow 3XL brethren.
Itching for more climbing holds? Check out our other 3XL Vice Grips!