Holes - Large #1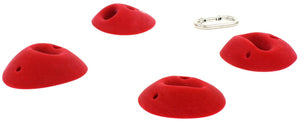 Holes - Large #1
Climbing Hold type: Pockets.

Number of Climbing Holds: 4.

Difficulty: Beginner-Intermediate.

Ergonomic design with a rounded lip save finger tendons.

Proudly made in the USA.

Free shipping on all orders in the USA. 
Working Class Large Holes are some of the best pockets you'll climb; these holds look as good as they feel to climb. Comfy Rounded lips are easy on the tendons, making it easy to lock off like a boss. Deep-positive pockets add unlimited versatility to any setter's kit—enjoy setting an array of movements, from matching to crossovers and drop knees.
Looking for more? Check out Large Holes #2 for even more options!