Holes - Medium #1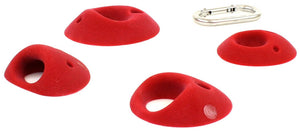 Holes - Medium #1
Climbing Hold type: Pockets.

Number of Climbing Holds: 4.

Difficulty: Beginner-Intermediate.

Ergonomic design with a rounded lip save finger tendons.

Proudly made in the USA.

Free shipping on all orders in the USA. 
Harness a suite of three-finger pockets, ranging from shallow and unforgiving through two-knuckle-deep buckets. These little guys will give you endless new movements for the toolbox, from crossovers and drop knees to full-blown swinging. But hold on Tarzan, don't worry about those tendons—Working Class holes have comfy rounded lips that are easy on finger tendons and feel great to crush. 
Looking for more? Check out Medium Holes #2 for different positivities, sizes, and shapes.